Research has shown benefits of controlled tile drainage for both the environment and production. The majority of nutrient discharge into water courses occurs from March to June when the soil is exposed and the majority of nutrients are applied to fields. By installing valves to slow down tile outlet discharge during dry periods the amount of nutrient discharge can be reduced. New technology is being developed to automate valves to adjust outlet discharge to match weather and field conditions. Controlled tile drainage also has benefits for crop yields during dry conditions.
OSCIA is working with scientists at the University of Ottawa, Concordia University and Agriculture and Agri-Food Canada on a new tool that will assist producers in predicting crop yield benefits from controlled tile drainage versus conventionally drained systems under varying weather scenarios. Visit the controlled drainage calculation tool via the link below:

Links to Further Information
If you have questions about the project, please contact Harold Rudy at hrudy@ontariosoilcrop.org.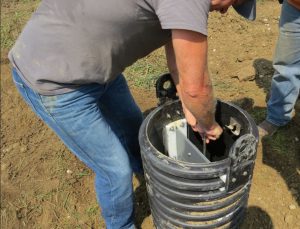 Adding stop logs to a control structure. Photo: UTRCA.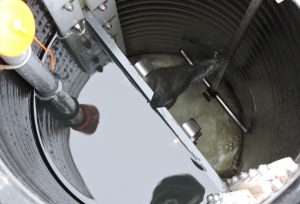 Inside of a control structure. Photo: UTRCA.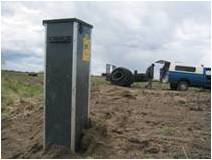 Control structure. Photo: South Nation Conservation
Summary Yield Maps: Difference in Percentage Yield under Controlled Tile Drainage