An unusual farm tests heating with manufactured wood products and compares agriculturally produced products with dried farm wood.
He has installed a demonstration hydronic heater for the greenhouse and is evaluating the efficiency of briquettes vs cordwood.
She grows 14 varieties of tomatoes in those greenhouses supplying high end Kingston restaurants.
He produces bio-fuel pellets and vegetable mulch for a diverse market gate clientele, and hybrid rye for a western Ontario distillery.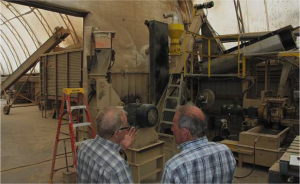 OSCIA Executive Officer, Research and Business Development, Harold Rudy and Forman Farms' Charlie Forman discuss the farm's experimental pellet mill.
He is taking a 90-acre firsttime stab at growing quinoa. She grows 40 acres of vegetables and her CSA program offers patrons a weekly credit to be collected on any of three days at area markets.
Together Christine and Charlie are Forman Farms where experimentation is the norm, the trust of their customer is of the utmost importance, and grow local has meaning.
"I never give up on anything," says Charlie Forman explaining that "nine times out of ten, if something doesn't work, it's because we're rushed."
Forman Farms was the location OSCIA called "the ideal partner," when it wanted to test hydronic heaters and firelogs in real life conditions.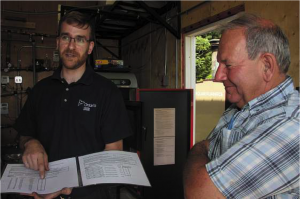 Terrance Sauve and Charlie Forman discuss the performance of a Froling Hydronic heater during a recent OSCIA stop at Forman Farms.
Farmstead optimization and safety engineer Terrence Sauve led about 10 visitors through a look at the Froling Heater (FHG turbo 3000) on a warm summerlike June day, explaining that OMAFRA wanted to test best management practices for heating with manufactured wood products and to compare agriculturally produced products with dried farm wood. Later they toured through the farm's pellet mill.
Sauve compared the Austrian- built Froling, a small biofuel hydronic heating appliance, with a traditional outdoor furnace.
Sauve chose a Polar G2 because of its medium sized firebox and secondary (lower) burn chamber. That secondary chamber allows "the reintroduction of secondary combustion air to combust unburnt wood gases or smoke before it exits the appliance."
With its three chambers, the idea was to demonstrate how the hydronic heater can operate with far lower emissions than those generally associated with outdoor heaters.
Sauve said that no matter how dry wood seems, it still always has some percentage of moisture which negatively impacts its heating value. Hence he was recommending briquettes made of poplar or switch.
With his "spaghetti mess;" an octopus-like concentration of wiring and valves, hot water tubes and gages, Sauve has completed short term studies of the efficiency of the Froling.
In the experiment the Froling heated one greenhouse, an office and a home. In the final short term analysis Sauve said the Froling was a truly efficient conductor, finishing a burn with no char in the residue as compared with the G2. Ashes from the Polar were a darker color and contained traces of black char.
The Froling, he noted is not an "outdoor," unit and it has "more combustion and temperature controls that are very similar to larger industrial combustion units."
Testing, Sauve says, has only been completed in the short term, outside of lab like conditions. Longterm he hopes to find out how the Froling behaves in real-time conditions when it is idling on warm days.
And he noted emission monitoring is far tougher in Europe where the unit is made, than it is here in North America.
The down side, says Charlie Forman, is that the beast (Froling) needs to be fed two to three times daily; definitely a limiting factor when you're not living on-site. The upside, he said, is the efficiency which with it consumes and utilizes fuel.
Forman said that once he worked with the Froling for a month he was able to more easily add secondary air for proper combustion. And he appreciated that it was compatible with agricultural based products.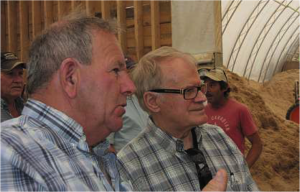 No OSCIA visit to Seeley's Bay's Forman Farms would be complete without stopping by the experimental bio-mass pellet mill. The organization's executive director of research education, Harold Rudy got the scoop from Charlie Forman (left) recently. In back, pellet mill operator Rick Haird chats with others who enjoyed the tour.
Sauve noted there are many processed bio fuels available and he concentrated on agricultural solid bio fuels including miscanthus and switchgrass shipped in from Nova Scotia. Other options are a flax briquette soon to be commercialized in Manitoba and poplar and other wood based briquettes which have established markets.
He explained that the briquettes are not more expensive when you measure them against the inefficiencies of natural wood.
Outdoor furnaces, Sauve acknowledged, have gained popularity over indoor wood stoves because of the opportunity to use radiant heating, increased indoor air quality, a perception of large quantities of inexpensive fuel, consistency of temperature and the ability to heat multiple locations with one central source. However, the drawback is what to do during periods of excess heat and the loss of efficiency as the outdoor pumps its heat to buildings through underground hot water pipes.
So Sauve determined measurement perametres including performance, calorific value and emissions. He looked at combustion efficiency, boiler efficiency and thermal efficiency and measured heating values and mass emissions over a set burn time.
He noted that the Polar G2 has simple electronic controls "that any licensed electrician could troubleshoot," but it doesn't have advanced controls for combustion air; the exhaust fan continues to run even when the firebox is empty and there are no automatic controls to monitor and optimize efficiency.
In short he determined that the G2 itself could not reliably heat a home, the office and a Forman Farms greenhouse.
The Froling offers advanced controls for monitoring water temperature in the storage tank, the water jacket, and room temperatur eand perhaps more importantly a flue gas sensor that 'measures the residual oxygen content in the flue and adjusted the combustion air supplies accordingly."
Additionally it can be married with a solar hot water panel to provide heat during warm spring and autumn days and it can be installed indoors.
Sauve said the technology is available to achieve a 98 per cent combustion efficiency during peak operation of a modern hydronic heater.
Long term testing is ongoing.
Partners: Forman Farms, Ontario Ministry of Agriculture, Food and Rural Affairs; University of Guelph