The purpose of the Forage Focus conference is to bring fresh ideas and new research results to Ontario forage producers across the ruminant livestock and commercial hay sectors. The event is a joint effort between the Ontario Forage Council and OMAFRA. In 2019 the conference was held on Thursday, December 5th. Between the main location in Stratford, nine remote locations in Ontario, and two remote locations in New Brunswick, over 183 people attended. One of the remote locations in Ontario was located at the University of Guelph – Ridgetown Campus for students to drop in during their exam week. CEU credits were offered for this event.
Topics presented this year were as follows:
Winterkill Woes by Christine O'Reilly

,

OMAFRA

Forage and Grazing Specialist

Increasing Profitability at the Feed Bunk by Candace Schiestel, ADM Animal Nutrition Dairy Specialist
Agronomic Considerations for Forage Production and Quality by Joe Lawrence, Cornell University – Department of Animal Science's Dairy Forage Specialist
Producing Quality Forages at Belmoral Farms Ltd by Mitch Keiffer, farmer
Alfalfa/Grass Management for Silage by Joe Lawrence, Cornell University – Department of Animal Science's Dairy Forage Specialist
Soil Compaction Management by Alex Barrie OMAFRA Soil Management Engineer
Key learnings from this event were how proactive management (scouting, soil compaction avoidance) protect forage yields, and how quality forages contribute to profitability.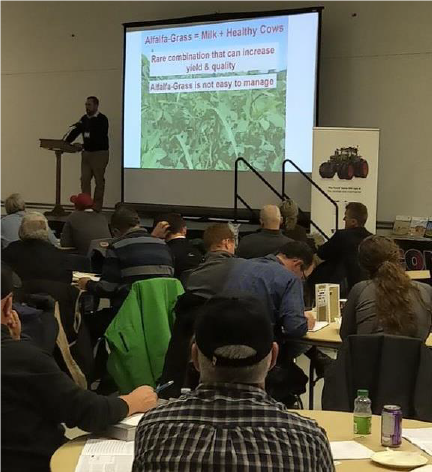 Figure 1. Keynote speaker Joe Lawrence
OMAFRA Communications Branch for broadcasting the event.
Organizers and hosts of remote locations in Cochrane, Dryden, Earlton, Emo, Embrun, Lindsay, Ridgetown, Thunder Bay and Verner; as well as Fredericton and Sussex, NB.
Sponsorship from Dairy Farmers of Ontario, Agricorp, Farm Credit Canada, Kubota, CanGrow, DLF Pickseed, Agri-Solve Inc, Quality seeds, Nuhn Forage, A&L Canada Laboratories, FS Growmark, and Heartland Farm Mutual.
Event Contacts
Christine O'Reilly, OMAFRA Forage and Grazing Specialist christine.oreilly@ontario.ca
Patricia Ellingwood, Ontario Forage Council Executive Assistant support@ontarioforagecouncil.com