The purpose of the Profitable Pastures conference is to bring fresh ideas and new research results to Ontario's grazing managers across ruminant livestock sectors. It is a joint effort between the Ontario Forage Council and OMAFRA. The 2019 event was held on Tuesday, March 19. Between the main location in Mount Forest and four remote locations, 83 people attended. CEU credits were offered for this event.
Topics presented this year were as follows:
Grazing Cover Crops by Christine O'Reilly, OMAFRA Forage and Grazing Specialist
Grazing Cover Crops in Action by Ken Mitchell, farmer
What Research Tells Us About Pasture Forage Mixtures by Dr. Carole Lafreniere, Université du Québec en Abitibi-Témiscamingue (retired)
2019 Mapleseed Beef Pasture Award winner Doug Gray, about his farm in Northumberland County
Get the Scoop on CFGA's Agricultural Greenhouse Gas Program Project by Cedric MacLeod, Executive Director of the Canadian Forage and Grassland Association
4R Nutrient Stewardship for Forages by Jake Munroe, OMAFRA Soil Fertility Specialist – Field Crops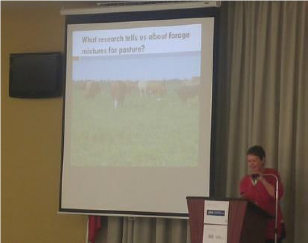 Key Learnings
Key learnings from this event were how forage crops improve soil health, and how well-managed, healthy soils improve pasture production.
OMAFRA Communications Branch for broadcasting the event.
Organizers and hosts of remote locations in Earlton, Emo, Powasson, and Thunder Bay.
Sponsorship from Beef Farmers of Ontario, Grey County Beef Farmers Association, Wentworth Cattlemen's Association, Farm Credit Canada, SGS Laboratories, Minto Ag, DLF Pickseed, and Green Tractors.
Event Contacts
Christine O'Reilly, OMAFRA Forage and Grazing Specialist christine.oreilly@ontario.ca
Patricia Ellingwood, Ontario Forage Council Executive Assistant support@ontarioforagecouncil.com